The Flash #20 - Review: Move In Reverse
By: Elvis Dutan | May 22, 2013

Fangrabs Interview
By: Nicole D'Andria | May 19, 2013

Avengers The Enemy Within #1 Video Review "Captain
Marvel Grounded"
By: Kat West AKA Comic Uno | May 18, 2013

Marvel's Most Ridiculous Villains
By: Mike Miersen | May 16, 2013

Dream Merchant #1 Review: Mr. Sandman
By: Mike Miersen | May 16, 2013

You Missed that Issue?! Corrective Measures Volume 1
By: Nicole D'Andria | May 13, 2013
Batgirl #15 Review "Will you Marry Me?"
By:
Kat West AKA Comic Uno
| Dec 13, 2012
Batgirl is one of my favorite ongoing series right now. I think Gail Simone does such a great job with the character. She knows this character so well, and really shows the struggle that Barbara goes through. It is a shame that she will be leaving the series, because I don't think anyone could write Barbara as well as Gail can.
The cover was great. It makes you question if the Joker actually is going to marry Batgirl. The art for the cover is great as always. My only complaint was that the cover was a little misleading because the wedding did not actually happen. It was more of a set up for the wedding. 
In this issue, The Joker proposes to Batgirl. Batgirl has to accept the proposal to save the civilians of Gotham and especially save her mother who had been kidnapped by the Joker in last time. Barbara's brother also has a plot in this story. Why is he teaming up with the Joker? Does he want to harm his sister?
Out of all of the Death of the Family tie ins Batgirl is the best tie in. The Joker has majorly affected Barbara's life because he took away the use of her legs for three years. We get to see real emotion from Barbara and we feel the anger she has for the Joker. I am glad that Gail didn't look over that Barbara was in a wheelchair. She always goes back to it, but it doesn't feel like she keeps repeating herself. It feels needed to talk about Barbara's past especially in this issue. Barbara goes face to face with the man who changed her life forever. It is interesting to see how far Barbara will go. Is she the type of character that would take revenge on someone who hurt her so much? That is a question we explore here.
 
Barbara's brother's story is developing. Since the beginning of this series there have been hints that James was going play a bigger part in Barbara's life. He has been in the fronlines in the Death of the Family story. I think Barbara's biggest villain will not be the Joker, but will be her brother. It is a shame that we will not be able to see how Gail wanted to play this out because after Death of the Family someone else would be taking over the book. It seemed like she had been developing this story for a while. I just hope who ever does take over the book continues showing that James is a big threat especially to Barbara's ex-roomate who he has been close to for the past couple of issues. 
I thought this was a solid issue. I still don't know what to think about the marriage proposal though. This is suppose to be a Death of the Family tie in, but in Batman it states that the Joker wants to kill the Bat family. So, why does the Joker want to marry Batgirl? In the end we find out that he wants to cut all her limbs off, but still keep her alive. The whole point of Joker wanting to kill the Bat family is for Batman to have no one left. But if Barbara is still alive he would still have someone to care for.


The art is always great. The only disadvantage that the artist has is that Batman comes out the same week. So, when you compare Batman's art and Batgirl's you tend to like Batman's art for this arc more. Greg Capullo gives a grittier look to the Joker than Daniel Sampere and Vincente Cifuentes does.
I thought this was a good issue. I think Batgirl is one of the best tie-ins for Death of the Family. So, if you love the Joker and have been enjoying Batman than I recommend you pick up this issue!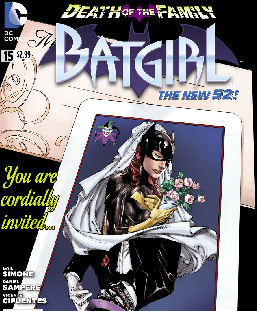 Cover Art
Publisher(s)

DC Comics

Writer(s)

Gail Simone

Series

Batgirl

Release Date(s)

12/12/12
Follow Entertainment Fuse