The Great Gatsby Review: A Great Surprise
By: Nicole D'Andria | May 17, 2013

First Look: The Arrival of The Rhino
By: Steven Armstrong | May 13, 2013

Cloud Atlas Blu-Ray Review
By: Ruben R Rosario | May 13, 2013

Sightseers Review: An Exercise in Hilariously Dark
Restraint
By: Simon Brookfield | May 12, 2013

The Plot Hole: Episode 93 – Everything Summer Movies
and a Friendly Competition
By: Simon Brookfield | May 10, 2013

First Pic from Dawn of the Planet of the Apes
By: Ruben R Rosario | May 10, 2013
End of Watch Review
By:
Simon Brookfield
| Sep 22, 2012
From conflicts of duty and heart like Brooklyn's Finest to police morality tales such as the now-infamous Training Day over to classics like Serpico, no film to chronicle the day-to-day lives and misadventures of our men and women in blue has come off quite as authentic as End of Watch. Writer-director David Ayer (who is no stranger to the genre with titles Street Kings, S.W.A.T. and the aforementioned Denzel Washington thriller to his name) has honed in on everything that made his previous efforts a success while stripping away most of those elements that have now become cliché. 
That is not to say that End of Watch shatters new ground, or that the stripped-down procedural format hasn't been done in equally effective fashion (often more potently) in television series such as Southland and The Wire, but it would be grossly unfair to not give glowing credit where it is due. Thanks to the grippingly genuine performances from leads Jake Gyllenhaal and Michael Pena, End of Watch is one of the best films of the year and absolutely one of the best of its kind across all possible subgenres. Dirty cop, undercover, gangster – you name it.
At an aesthetic level, the use of up-close-and-personal shaky cam easily distinguishes Ayer's tale from other beat-cop chronicles (while somewhat inviting comparisons to the aforementioned Southland at the same time). It makes End of Watch feel much closer to the reality show Cops then to the likes of Narc or Cop Land. Likely not to make people as nauseated as other "found footage" fare, End of Watch only calls into attention its gimmick when addressing the fact that the cameras are there, e.g. "turn that camera off, I'm doing this for a film class," etc. Simply employing the close-up feel and nothing more would have done End of Watch a number of favors. 
Bolstering the (positive) elements of that filmmaking choice even further is the grippingly faithful dialogue, which while not shying away from the code-laden jargon that accompanies the job, also provides impeccably easy-going (and often hilarious) exchanges that would make the likes of Aaron Sorkin or Quentin Tarantino proud. It is in this screenwriting sense where Ayer has triumphed over his previous outings. Gyllenhaal and Pena aid in bringing the script to life and have such an easy-going rapport it is impossible not to be caught up with these two brothers in arms. Truthfully, it's all awards-worthy stuff.
The plot is pretty cut and dry, but for End of Watch it stands as one of the film's greatest strengths. Spanning the course of about a year, officers Taylor and Zavala respond to domestic disputes, house fires and suspicious individuals. As they say, not everything is car chases and gunfights. Although they often think of themselves as cowboys (and South Central L.A. could be mistaken for the Wild West on more than one occasion), End of Watch isn't afraid to explore the family lives of these characters, the down times, and the casual, anecdotal exchanges that go along with the shoot-'em-up side of law. 
With his shaved head and confident swagger, Gyllenhaal slips effortlessly into his role as the young hotshot, rising to the occasion of the demanding off-handed dialogue, and without a doubt provides one of the best and most authentic performances of his already noteworthy career. Shattering all preconceived notions at what he was capable of, Pena is essentially a revelation, proving tough, funny and caring in equal measure, often at the same time. He seems to glean more charisma off of Gyllenhaal than other thesps with whom he's shared the screen. Supporting characters Anna Kendrick (as the love interest of Taylor), Natalie Martinez (charming and feisty as Zavala's wife) and all of the despicable street thugs who share the screen with our protagonists are also stellar, making for nothing close to a weak link. 
Gripping, tragic and utterly unafraid to go to gruesome places, End of Watch is a hugely pleasant surprise for a genre which has become all about the duality of crooked cops and surprise twist reveals that pluck an undercover cop out of thin air at the most opportune moment. There is something refreshing about having a film examine a clear-cut line of good and evil all while maintaining the ability to keep your sweaty hand firmly clasping the other.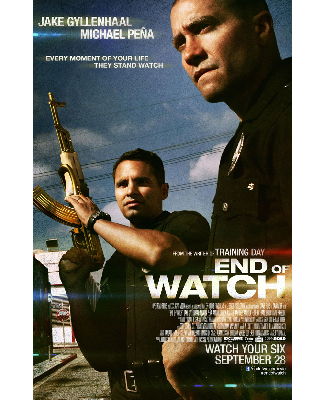 Cover Art
Distributor(s)

Open Road Films

Starring

Jake Gyllanhaal, Michael Pena, Anna Kendrick, Natalie Martinez

Director(s)

David Ayer

Writer(s)

David Ayer

Release Date(s)

September 21, 2012

Genre(s)

Police, Action, Thriller

Rating(s)

R
Follow Entertainment Fuse