The Great Gatsby Review: A Great Surprise
By: Nicole D'Andria | May 17, 2013

First Look: The Arrival of The Rhino
By: Steven Armstrong | May 13, 2013

Cloud Atlas Blu-Ray Review
By: Ruben R Rosario | May 13, 2013

Sightseers Review: An Exercise in Hilariously Dark
Restraint
By: Simon Brookfield | May 12, 2013

The Plot Hole: Episode 93 – Everything Summer Movies
and a Friendly Competition
By: Simon Brookfield | May 10, 2013

First Pic from Dawn of the Planet of the Apes
By: Ruben R Rosario | May 10, 2013
Frankenweenie Review
By:
John Gilpatrick
| Oct 06, 2012
Frankenweenie is arguably one of the sweetest, most heartfelt movies of the year. It's also Tim Burton's strongest effort in almost a decade. Much of this likely stems from the fact that Frankenweenie was actually a short film Burton directed before he made it big, and one can't help but think a break from the Johnny Depp-Helena Bonham Carter collaborations rejuvenated his creativity. 

Whatever the case, Frankenweenie is a delightful film that feels both personal and universal. It's not hard to see Burton in the shoes of the film's main character, and the conflict that character goes through — though superficially impossible — will elicit strong emotion out of even the most cold-hearted viewer.



Victor Frankenstein (voice of Charlie Tahan) is an odd little boy whose best friend is a dog named Sparky and who spends his free time shooting homemade monster movies. Tragically, Sparky gets hit by a car one day and dies, leaving an inconsolable Victor friendless. When his science teacher, Mr. Rzykruski (Martin Landau), explains to Victor and his classmates about the true potential of electric power, the young boy is intrigued. Could he reanimate Sparky a la Frankenstein? It turns out he can, but the unforeseen consequences are much more than he bargained for.

Frankenweenie was, of course, filmed in black and white using stop-motion animation. It's Burton's third stop-motion film, and he's honed the craft in a way that you wouldn't miss live-action Burton if he decided to retire. It's a gorgeous movie with spectacular character detail.
Because of the medium and macabre subject matter, Frankenweenie has been frequently compared to this year's ParaNorman. Fans of the latter film will likely enjoy what Burton has to offer, but they're two different beasts altogether, and hopefully their differences can translate to a pair of Best Animated Feature nominations at next year's Oscars. They're both certainly deserving.

Burton packs his film full of horror movie references that will definitely please adults (if they don't get too pissed off by how decidedly kid-unfriendly this animated movie is). The Bride of Frankenstein is an obvious source of inspiration, as is Dracula. It also has a lot in common with films like Super 8 that praised the art of moviemaking, even in its crudest form. Frankenweenie does for horror what Rango did for the Western last year.


The crew of voice actors Burton has assembled are relatively unremarkable with one exception. Martin Landau delivers lines like an absolute champ. He's channeling the late Vincent Price (about whom Burton directed a short film around the same time he made the Frankenweenie short), and he does so expertly. Meanwhile, Winona Ryder, Catherine O'Hara and young Charlie Tahan are adequate. Christopher Lee also has a fun voice role, which he excels at, though his work doesn't touch that of Landau.

The last time a Burton film worked this well was Big Fish, another movie that was big on emotion and didn't rely quite as much on style to slide through narrative rough patches. Corpse Bride was another solid, post-millennial Burton film, which of course shares a lot in common with Frankenweenie. Why he decided to return to this material now is unclear, but the end result makes you wonder why he didn't do it sooner. This is a better-than-solid movie overall and absolutely perfect for an October matinee.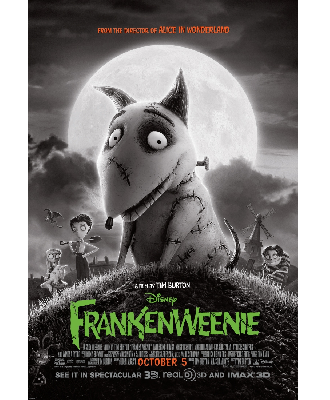 Cover Art
Distributor(s)

Walt Disney Pictures

Starring

(voices) Charlie Tahan, Catherine O'Hara, Martin Short, Martin Landau, Atticus Shaffer, Winona Ryder

Director(s)

Tim Burton

Writer(s)

John August, Tim Burton (screenplay, short film, story)

Release Date(s)

October 5, 2012

Genre(s)

Animation, Horror, Comedy

Rating(s)

PG
Follow Entertainment Fuse