Star Trek Into Darkness Review: An Interesting,
Arresting Sequel
By: Matthew Kovac | May 18, 2013

The Great Gatsby Review: A Great Surprise
By: Nicole D'Andria | May 17, 2013

First Look: The Arrival of The Rhino
By: Steven Armstrong | May 13, 2013

Cloud Atlas Blu-Ray Review
By: Ruben R Rosario | May 13, 2013

Sightseers Review: An Exercise in Hilariously Dark
Restraint
By: Simon Brookfield | May 12, 2013

The Plot Hole: Episode 93 – Everything Summer Movies
and a Friendly Competition
By: Simon Brookfield | May 10, 2013
Pitch Perfect Review
By:
Max Alborn
| Oct 05, 2012
Max's Rating: 7/10
Fused Rating: 7.3/10
(2 reviews total)
The problem (and irony) with college-based comedies is oftentimes, they treat their subjects as fools and drunks, smacking both the characters and audience in the face. Pitch Perfect could have been a massive disaster that took such a form; instead, it's an all-around good time that rarely misses a beat while providing laughs that don't make you feel dead inside.


The story centers around Becca (Anna Kendrick), a reluctant college freshman who'd rather move to L.A. to pursue a career as a DJ. Unless she completes a year of college while getting involved with campus life, her father won't help her move to the West Coast. Shortly after arriving, Becca crosses paths with "The Bellas," one of four a cappella groups on campus and the only group that is exclusively female.
Seen as a campus joke due to their dated songbook and embarrassing past performances, seniors Aubrey (Anna Camp) and Chloe (Brittany Snow) are determined to take the Bellas to the finals where they intend to face-off against their campus rivals: the all-male group known as "The Treble Makers." Initially refusing to audition, Becca ultimately joins the ragtag group while navigating the college experience of friends, romance and identity.
The biggest selling point to the movie is the cast chemistry led by the increasingly fantastic Kendrick, whose star shall continue to rise. Surprisingly giving Becca a lot of heart instead of sass, Kendrick is bolstered by a likeable cast, while keeping her tongue planted in her cheek. Neither she nor the rest of the cast dumb their characters down and are never afraid to reach for extremes. Standouts include tournament moderators Gail and John (Elizabeth Banks and John Michael Higgins, respectively), who don't miss a single beat (Banks especially), and Lilly (Hana Mae Lee), the incredibly soft-spoken Bella who has some of the film's most messed-up lines and is a consistent crowd pleaser.
But nobody in the cast got more laughs than Fat Amy, played to the T by Rebel Wilson. As the Australian exchange student who wrestles both crocodiles and dingos, Amy is crass, blunt and boasts the most confidence of anyone in the film. Her range of jokes (and groups she can offend) know no bounds, at least from a PG-13 standing. Wilson has already been making an impression in the last year with
Bridesmaids
,
What to Expect When You're Expecting
and
Bachelorette
. With
Pitch Perfect,
she's deservedly stepped into the spotlight of American comedy and hopefully is here to stay.
As far as the music, it's safe to say
Perfect
 runs a lot like a glorified episode of
Glee
, only with a much more likable cast and director. First-time director Jason Moore is best known for directing the Broadway musical
Avenue Q
, which went on to win Best Musical and remains insanely funny. The cast performs well enough and you learn to enjoy the Bellas as their style molds into Becca's remix-heavy vision, but the bulk of the musical sections are pretty light and not entirely memorable. The choreography is nothing to praise and the song list is a bit uninspired, but they're still breezy and helped by the fact that the actresses all have their own performance strengths, both from a vocal and comedic standpoint.
And that's the core of the movie: it's just a good time. It won't change your world nor will it go down as one of the modern comedy greats, but it's far from a failure as it consistently delivers smiles, if not laughter. Kendrick is clearly among the next generation of leading ladies, Wilson, Banks and Higgins are a riot, the musical pieces are fun (if a little forgettable) and the script is both funny and strikingly sincere. When so many comedies (especially ones involving college) are such duds,
Pitch Perfect
is a refreshing shot in the arm that can be enjoyed by most.
Rating: 7/10
Steven thought:
"It's a total wonder how
Pitch Perfect
manages to stay fresh and entertaining despite college movie cliches lurking around every possible turn, but
30 Rock
writer/producer Kay Cannon, who essentially wrote the movie (it resembles Mickey Rapkin's book in name only), artfully dodges, embraces and twists them in surprising ways, and the ensemble cast fulfills its end of the bargain too. Wilson steals attention from the predictable core romance between Kendrick's Beca and new Treblemaker Jesse and Banks and Higgins are the best movie commentators since
Dodgeball
, even though the a cappella world doesn't have commentators. Believe me. With many of the songs cut short and little directorial emphasis on the music, audiences expecting a great music movie might be disappointed, but otherwise here's a smartly typical comedy that happens to feature nerdy singing groups."
Rating: 7.5/10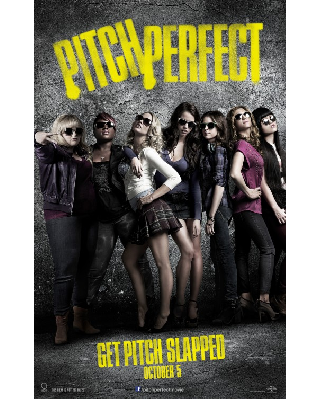 Cover Art
Follow Entertainment Fuse