The Office - Finale Review: A Fitting End (and a
Wedding on a Beet Farm)
By: Angela Teater | May 17, 2013

Hannibal - Fromage Review: Excellent Work by a Trio of
Guest Stars
By: Jean Henegan | May 17, 2013

Revolution - The Longest Day Review: Compelling
Flashbacks Support the Episode
By: Yaysa Roque-Rivera | May 14, 2013

Mad Men - Man With a Plan Review: Intriguing Look Into
Don Draper
By: Yaysa Roque-Rivera | May 13, 2013

Veep - Helsinki Review: Awkward Moments and
Uncomfortable Quotes
By: Tobias Roth | May 13, 2013

Game of Thrones - The Bear and the Maiden Fair: A Weak
Effort from George R.R. Martin
By: Jean Henegan | May 13, 2013
Alphas - Falling
By:
Narcisse Tchouati
| Sep 20, 2012
Falling was an episode structured in such a way that one could literally pick a favorite story and completely ignore the others. This is not to say that most storylines were lacking — they were in fact very decent — but rather to stress that they were completely independent. Preoccupied with his daughter Dani, Rosen left the case of the week in the capable hands of Bill. And while under her father's scrutiny, Dani managed to spend some time with Cameron, his son, and permanently affect the relationship between the two.
I am among those who liked the introduction of Kat, and I have had a certain fondness for the character ever since. Despite my laughing at her oneliners and friendly banters, I was starting to find her contribution to the series rather limited. That is, until the case of the week here where Kat appeared in a photo with one of the young people under investigation for consuming a drug that makes people invulnerable.



The episode did an excellent job of getting the alpha with short-term memory to confront a past she did not remember. She was eager to help with the investigation in order to find acceptance within the team of heroes she admires, but she was also intrigued and even fascinated by the things she was learning about herself. I chose to see the storyline as a lesson to Kat about trusting her guts (on who she is) when she has to make a decision without having the benefit of memories or past experiences to rely on. It is possible to read it that way, because her hesitations and even resistance to some of the more reckless ideas from the dealer were in line with the truth about herself. During their time together before, he had never managed to convince her to become a hardened criminal.

Kat's strong convictions seemed to turn the story into some sort of entry exam to test her resolve. The "promotion" at the end made sense, even if with her condition it is arguably difficult to contend that those events or a training in Quantico would be helpful a month later.

Dani's time with Cameron and his son did more for the character than anything else before. Unlike her previous actions during this season (and even earlier) that could always be considered calculated, this one was clearly from the heart and, interestingly, heightened by the fact that she could relate to Cameron's son. I liked how "bumpy" in more ways than one her conversation with the boy was at the airport. It was awkward because she was trying to be the nice girlfriend while the youngster spoke of a bumpy flight. I liked how using the can-throwing incident set Cameron on a path inexorably leading to a quarrel with his son. Dani, single-handedly reconciling them in them with her power was a nice touch. When emotions are so well expressed, we are powerless to resist them. The scene on the couch where she casually puts a word on the feeling Cameron's son has just experienced could be considered corny, but perfectly worked for me. The achievement of this storyline is all the more remarkable because Cameron and Dani are arguably not exactly the most likable alphas in this series.



All the kumbayah above involving Dani presumably prepared the viewer to feel the final events and the closing scenes event more acutely. For all my praise of the preceding storylines, what really put the episode on the map as far as the overarching story is concerned was the arrest of Rosen's daughter. At the end of the previous episode, he got suspicious because of a painting, but here, he gathered hard evidence. Although irritating at times, Rosen's agitation during the episode (well played by David Strathairn) makes sense to a degree, but what is unforgivable is what they tried to do with Nathan. The FBI lead agent and Rosen have never been friends, but in this episode, in an attempt to ratchet up the pressure on Rosen and make him afraid for his daughter, Nathan was behaving as if they were old pals. And of course, as such, he would do everything he could to find and arrest Stanton Parish (he previously derided as imagined by Rosen). That is simply a pathetic abuse of writers' hold on viewers fears. Also, the relationship between the Rosens has never been presented in a way that would justify the fallout we saw. In just one episode, the series managed to show a bond between Cameron and his son much stronger than anything we've seen between Rosen and Dani for as long as they've been together.

Nina's intervention with Rosen made sense, much more than when she stepped in to reassure Rachel. Without getting into details about the latter's perennial (and now almost irritating) issues with relationships, I must say that Nina motivating Rachel so eagerly seemed a bit too early after the events a couple of episodes ago. I would have liked to see more awkwardness between the two before they became great friends again.

"Falling" was unfortunate to have its most resounding event (Dani's arrest) belong to its weakest storyline. It turned an episode that could have been a touching insight into a main character's life (with some impact on the overall story) into something that almost felt like a filler episode.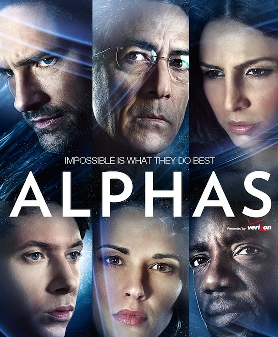 Cover Art
Starring

David Strathairn as Dr. Rosen, Ryan Cartwright as Gary, Warren Christie as Cameron, Azita Ghanizada as Rachel, Laura Mennell as Nina, Malik Yoba as Bill, Erin Way as Kat

Director(s)

Nick Copus

Writer(s)

Nina Fiore & John Herrera

Series

Alphas

Genre(s)

Drama, Science fiction
Follow Entertainment Fuse