Revolution - Clue Review: Disappointing Lead-Up to the
Final Episodes
By: Yaysa Roque-Rivera | May 21, 2013

Mad Men - The Crash Review: Manic and Surreal
By: Yaysa Roque-Rivera | May 20, 2013

Veep - Andrew Review: More Comedy Than Usual and an
Interesting Twist
By: Tobias Roth | May 20, 2013

Nurse Jackie - Walk of Shame Review: Drama Outweighs
Comedy in a Bit of a Disappointment
By: Tobias Roth | May 20, 2013

Game of Thrones - Second Sons: A More Clearly Focused
Episode
By: Jean Henegan | May 20, 2013

Arrow - Season One Review: Next Best Thing to a Batman
Series
By: Sean Elks | May 19, 2013
Breaking Bad - Buyout
By:
Ashley Chittock
| Aug 21, 2012 At some point after the killing of Gustavo Fring, Walter White was left in a state of flux. Think all the way back to the pilot episode. His motivations then, in further episodes and now are all completely different. When the series started, Walt was the family man, and all he had on his mind was making sure he didn't leave his family with nothing. As he got deeper and deeper into criminal enterprises, his motivations were mostly just necessity - he
had
 to cook for Gus, at first because of a professional obligation, and later because Gus had a theoretical gun to his family's heads. Now those necessities are gone Walt could, in theory, just quit. That was one of the things about him that was niggling away at me in the early part of this season. Seeing as how the show has spent four seasons characterising him as an incredibly logical, rational man, it seemed somewhat out of character for Walt not to count his lucky stars and quit.
Buyout
 explores this in full, and it goes to great lengths to show to the viewers that Walt's motivation these days is that he has absolutely nothing left to lose. Not only does this episode show it to the audience, but it makes sure that the characters around him know it too. The crux of
Buyout
 is this - Mike and Jesse want to sell up and quit, before they get busted and go mad through guilt respectively - Walt doesn't. The stumbling block in this severance comes when Mike and Jesse can't quit without selling Walt's share of the business, his methlamyne. This is the framework for a forty-five minute exploration of Walt's apathy towards his family life, his complete lack of empathy towards Jesse, and his unwillingness to compromise.
Most of this comes in conversations Walt has with Jesse, who spends this episode wrangling with the guilt of being partly responsible for the death of an innocent fourteen year-old. Walt urges Jesse to take the afternoon off, saying that he too is being eaten up inside by the ordeal. Then, as soon as Jesse accepts and collects his coat, Walt buttons up the meth tent and whistles a nonchalant tune. It's a little on-the-nose, but it spells out in no uncertain terms that whatever sort of empathy Walt once had is gone. The fact that the audience barely noticed this change is testament to the strength of the writing. Go back and watch some earlier seasons and you'll begin to see the moments where his manner is changed permanently - stone-faced lies in "
Down
", or straight-up murder in "
Half Measures
". He illustrates his motivations to Jesse by inviting him to witness the state of his family life firsthand over dinner. He has nothing left, he says to Jesse, and for that reason he can't quit. 
Grey Matter, run by his incredibly successful ex-girlfriend and her aloof husband, has become a billion-dollar company while he can only sit and watch stock prices rise. "I'm in the empire business" is probably the first meme-inspiring quote of the series, and the whole conversation really allows Walt's ego to reveal itself. He's in remission and his children will never want for anything thanks to Gus's money, but he's no longer making money for his family, he's making money for
himself
. We knew it was the case before this week, but this was the episode that just went and stated it explicitly for good measure. The worst part of the episode is the ending - a frustrating cliffhanger that doesn't quite pull off the suspenseful, hair-tearing shock of "
Half Measures
", and felt more like the writers simply ran out of screentime. It almost fades to black mid-conversation, and where the show leaves it - with Walt about to detail his masterplan - will possibly kill the pace for next week. Perhaps it would have been better for these final few episodes to have been aired in short succession, especially if they all lead into each other chronologically.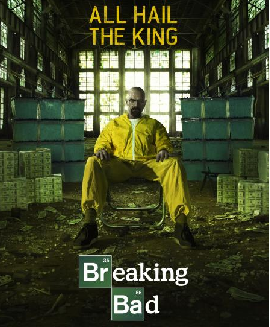 Cover Art
Starring

Bryan Cranston, Aaron Paul, Anna Gunn, RJ Mitte, Dean Norris, Betsy Brandt, Jonathan Banks, Bob Odendirk

Series

5

Release Date(s)

August 19th 2012

Genre(s)

Crime, Drama
Follow Entertainment Fuse