Revolution - Clue Review: Disappointing Lead-Up to the
Final Episodes
By: Yaysa Roque-Rivera | May 21, 2013

Mad Men - The Crash Review: Manic and Surreal
By: Yaysa Roque-Rivera | May 20, 2013

Veep - Andrew Review: More Comedy Than Usual and an
Interesting Twist
By: Tobias Roth | May 20, 2013

Nurse Jackie - Walk of Shame Review: Drama Outweighs
Comedy in a Bit of a Disappointment
By: Tobias Roth | May 20, 2013

Game of Thrones - Second Sons: A More Clearly Focused
Episode
By: Jean Henegan | May 20, 2013

Arrow - Season One Review: Next Best Thing to a Batman
Series
By: Sean Elks | May 19, 2013
Breaking Bad - Fifty-One
By:
Ashley Chittock
| Aug 09, 2012
"So now you're in charge it's going to be smooth sailing from here on out?""I don't see why not."
Never has a single exchange better summed up where the character of Walter White is in the middle of
Breaking Bad
season five. Drunk with power, reckless due to a false sense of security, and ambitious now that those who held him back are dead, it's no coincidence that Walt spends more time wearing that signature Heisenberg hat than ever. He feels so in control of everything around him that despite very obvious issues bearing down, he remains the same calm, self-assured sociopath we've come to appreciate.
Fifty-One
 takes a different tack than most of the season so far in that it deals with the White family. Season five has largely concerned the business end of the show until now, with the three amigos attempting to get back into the meth trade, but
Fifty-One
 finally confronts the bubbling marital strife and poorly kept secrets that have been threatening to tear the White clan apart.
Like a lot of the "family-focused" episodes of
Breaking Bad
,
Fifty-One
 is a slow burner. It builds dialogue meticulously until it explodes in a hail of exposition and character development in the final fifteen minutes. The essential part of this episode is to finally bring Skyler back into the fray. So far this season all she's done is stare aimlessly into the middle distance, but this week she finally hits rock-bottom and bounces back, affirming her feelings to Walt and telling him in no uncertain terms she wishes he were dead. It takes place in a lengthy argument scene in which Skyler says more lines than she has in the entire season so far combined. It's Anna Gunn's first decent performance in a season that hasn't played to her strengths, and it is nice to finally feel some advancement in this side of the plot. The show has spent the early season going so hard on the crazy meth-making montages that I almost forgot that these sorts of character moments are where the show first won mountains of praise.
The predictable downside to the White family focus in this episode is that Jesse and Mike get wholly neglected. The writers do manage to contrive a reason for him to be doing very little - a 1800 mile round trip to meet Lydia - but it would have been less jarring to the overall tone of the show if episodes blended family and business, rather than keeping the plotlines distinct. Right at the end of the episode, however, there's an excellent couple of scenes that manages to tie in Jesse and Mike to
Fifty-One
's A-plot completely. Jesse learns that Lydia's double-crossed him, and Walt uses Jesse's birthday gift to him - a watch - in order to illustrate a final verbal riposte to Skyler. Its neat writing touches like this that make
Breaking Bad
 one of the finest drama shows of all time. It isn't a touch that many screenwriters would bother with, tying supporting plotlines into the main arc so integrally, but it instantly dispels any worry on the viewers' part that the Jesse scenes in
Fifty-One
 were simply killing time.
So whether you think
Fifty-One
is the best episode of season five thus far will depend on what you keep coming back to
Breaking Bad
for. Do you still crave the intense character moments, the lengthy monologues, and long silences between White family members? Then this episode will absolutely be for you. Anyone that has found their ability to enjoy these lulls in action diluted by the increasingly violent and active antics of recent seasons might consider this a bit of a bummer. Whatever camp you fit into, however, won't affect your ability to see
Fifty-One
 as a great piece of storytelling that addresses plotlines with the grace and delivery that made the show so fantastic in the first place.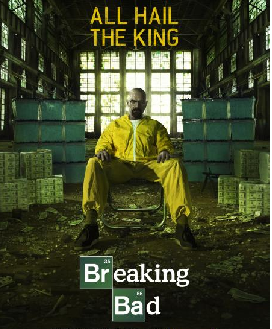 Cover Art
Starring

Bryan Cranston, Anna Gunn, Aaron Paul, Dean Norris, Jonathon Banks, Betsy Brandt, RJ Mitte

Series

5

Release Date(s)

August 5th 2012

Genre(s)

Crime, Drama
Follow Entertainment Fuse