The Office - Finale Review: A Fitting End (and a
Wedding on a Beet Farm)
By: Angela Teater | May 17, 2013

Hannibal - Fromage Review: Excellent Work by a Trio of
Guest Stars
By: Jean Henegan | May 17, 2013

Revolution - The Longest Day Review: Compelling
Flashbacks Support the Episode
By: Yaysa Roque-Rivera | May 14, 2013

Mad Men - Man With a Plan Review: Intriguing Look Into
Don Draper
By: Yaysa Roque-Rivera | May 13, 2013

Veep - Helsinki Review: Awkward Moments and
Uncomfortable Quotes
By: Tobias Roth | May 13, 2013

Game of Thrones - The Bear and the Maiden Fair: A Weak
Effort from George R.R. Martin
By: Jean Henegan | May 13, 2013
Breaking Bad - Gliding Over All
By:
Ashley Chittock
| Sep 04, 2012 As Hank Schrader sits on the toilet, he aimlessly reaches behind him for some reading material. Not content with sharing his 'me time' with the usual assorted glossy magazines, he bemusely flicks through a copy of Walt Whitman's
Leaves Of Grass
. In the first page, he sees the inscription left by Gale Beneker, "to my other favorite W.W. It's an honour working with you. Fondly, G.B.". In this small moment, the year of hard work and the carefully hidden trail of bodies Walter White has hidden from his brother-in-law comes undone. This is how the great empire of Heisenberg falls - not with an explosion, but with a toilet book.
It was inevitable this "mid-season finale" was going to be less explosive than its counterparts from previous seasons. The entire episode is spent painting Walt as a picture of success. He and only he now controls the New Mexico meth drug trade. First, he takes care of Mike. Then he takes care of Mike's guys, using Lydia's intel and Todd's prison contacts. There's a deliberate ease and nonchalantness about how this triumph plays out. In a brilliantly cut two-minute musical montage, Mike's nine employees and his lawyer are stopped from squealing in the most brutal way. After Walt's many tribulations in the last season, some people might be waiting for the axe to fall, but for 46 minutes the show is a picture of happiness.
Even in the dying seconds, however, you know it's coming. Anyone that's watched the show before knows it's coming. While you could accuse the ending of being both anticlimactic or silly, it seemed incredibly fitting to me that Walt's empire would be brought down by something that's not massive or criminal. Walt's tracks have been covered so well by Saul, Skyler, and Mike that it was always going to be the most trivial of details, something that even the master logician Walter White overlooked, that sparked his demise. This is the focus of the episode, despite the fact that everybody assumed Mike's death was going to lead to more danger for Walt.
There are two downsides to
Gliding Over All
. Firstly, there are
three
 musical montages. One is best meth cooking montage yet, and whoever on the staff chose Tommy James and the Shondells' "
Crystal Blue Persuasion
" deserves an award for sound design. The next two, showing Walt's drug empire growing internationally after Lydia makes good on her Madrigal connections and Walt's guys taking care of Mike's informants, come a little too soon after and are a little too long. There's a little too much to do in this three quarters of an hour, and having three extended montage sequences to speed the passage of events shows this.
The second downside is that there isn't enough Aaron Paul. Now out of the meth business, Jesse's back on the bong and trying to hide from the world. He knows the prison killings on the news were Walt's doing, but the show is incredibly coy over whether he's cottoned onto the fact that when Walt said Mike was "gone", he really meant it. He's certainly scared enough of Walt that he conceals a gun when answering the door to him, and he begins to weep with relief when he leaves without killing him too. It seems like Jesse is the one person in the world that Walt has any modicum of respect for. He even goes as far to give him free money because Walt has
so damn much
 of the stuff. This display of respect from Walter is a nice display of humanity from a character that now has very little of it left. 
Breaking Bad
 is back in 2013, with what for all intents and purposes is a separate, sixth season. It's being written and shot indepedently of these eight, so to classify it as "season five, part deux" seems a little false. Some interesting points to note: every season opener apart from season three starts at the immediate end of the previous seasons' finale. I hope the trend continues as I'd love to see Hank walk back out of the bathroom and onto the patio, now with the damning realization of everything Walt has done. The last scene is a sleeper contender for one of the best the show has ever had - the family sitting around perfectly happy, all discussing everyday matters related to chemistry (vitamin supplements, sunscreen, brewing alcohol). Finally, the flashforward at the very beginning of
Live Free Or Die
 was never expanded on. This means that the sixth season will cover at least the space of Walt's fifty-first year, so don't expect Hank to stroll straight out onto the patio and bust Heisenberg right there and then. Whatever he does, I absolutely can't wait.
Breaking Bad - Gliding Over All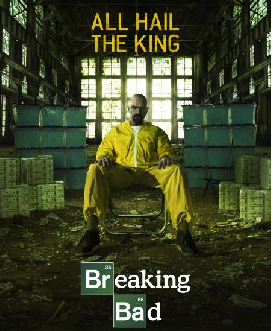 Cover Art
Starring

Bryan Cranston, Anna Gunn, Aaron Paul, RJ Mitte, Dean Norris, Betsy Brandt

Series

Breaking Bad

Release Date(s)

September 2nd 2012

Genre(s)

Crime, Drama
Follow Entertainment Fuse