Arrow - Season One Review: Next Best Thing to a Batman
Series
By: Sean Elks | May 19, 2013

The Office - Finale Review: A Fitting End (and a
Wedding on a Beet Farm)
By: Angela Teater | May 17, 2013

Hannibal - Fromage Review: Excellent Work by a Trio of
Guest Stars
By: Jean Henegan | May 17, 2013

Revolution - The Longest Day Review: Compelling
Flashbacks Support the Episode
By: Yaysa Roque-Rivera | May 14, 2013

Mad Men - Man With a Plan Review: Intriguing Look Into
Don Draper
By: Yaysa Roque-Rivera | May 13, 2013

Veep - Helsinki Review: Awkward Moments and
Uncomfortable Quotes
By: Tobias Roth | May 13, 2013
Breaking Bad - Say My Name
By:
Ashley Chittock
| Aug 29, 2012 This season shows, if nothing else, that "predictable" isn't always a pejorative term. We knew, even before the season began from the promotional material, that Walt was going to fall from grace hard. As the season began to get going, it became increasingly apparent that this was going to happen in one of a very select few ways. Either Mike, Jesse, or Hank were going to cause him one problem too many. What we're beginning to see as the season comes to a lengthy break is that it might not just be one - it might be all three. All the way through this episode, Walt's ego gets battered. The episode started a little shakily, the result of the weak cliffhanger from last week. Walt's "say my name" shtick was a cheesy way of illustrating the size of his ego and reminding us about the purpose of last week's episode, but it was a nice juxtaposition to the ending, where we almost see flashes of the old regretful Mr. White as Mike dies through his lack of tact.
After this, it's all good stuff. You could almost call the rest of the episode scene-for-scene in the minutes preceding the title sequence, Walt's failed request for gratitude from Mike foreshadowing the final moments. This is the first of three bruises to Walt's ego, the final of which would be the straw that broke the camel's back, sending Walt into an ego trip from which he doesn't recover. After securing the deal for the methlamyne he wanted, he unsuccessfully attempts to talk Jesse out of quitting. After the events of this episode Jesse might just be Walt's biggest threat. He's the only one not under Walt's spell. Hank is close but not suspicious of Walt himself, Skyler is frozen in fear, and it even took Mike half a season to snap out of it and stay well out of his way like he originally intended.
Jesse still stands up to Walt, and strangely, there's subtle hints that he and Skyler might be the surprise combination of the year in the car wash scene. Aaron Paul does some fantastic subtle acting, particularly in the way Jesse's expression physically changes the moment he realises just how deep Skyler's resentment for Walt runs. Could the death of Mike be the final straw that sends Jesse over the edge himself? This would open the door for him and Skyler to join in a common aim of taking out Walt. The most important plot point of
Say My Name
 is that Walt has now made a mighty mess, and that in doing so he's eliminated the one person who is equipped to clean his previous messes up.
Say My Name
's direction was top notch, easily the best of the season so far. The episode managed to make a lengthy montage of money being loaded into bank deposit boxes entertaining through good editing, choice of music, and truly inventive camera work. Seriously, the "wrist-cam" should be in more things from now on. It came as no surprise to me when I discovered that this episode was written and directed by Thomas Schnauz, whose only previous credit on the show is one of the show's all-time best episodes,
One Minute.
I adore how this show has developed such a unique style out of nothing over the course of five seasons, and how they manage to keep making similar but equally entertaining meth-making montages.
So we only have one week to go until the final
Breaking Bad
 episode of 2012. Having only eight episodes in which to do business has both hurt and benefitted the season. On the downside, it's had less room to build slowly as it has done in the last three seasons. Going back to season two now, it's almost infuriatingly methodical in comparison. Season five is still finely written, however, and it's a testament to the creators that they've managed to fit a complex arc into eight episodes, which would have been more than enough to fill any other show's dozen-episode plus run. All this week has done is make me wish they'd have aired this and next week's mid-season finale as a double. I knew I was going to be on tenterhooks, but I didn't realize how painful the wait was going to be. Roll on the second of September.
Breaking Bad - Say My Name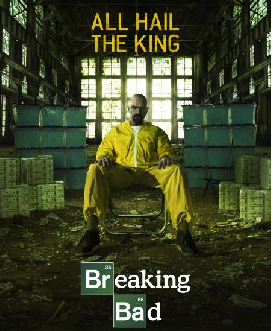 Cover Art
Starring

Bryan Cranston, Aaron Paul, Anna Gunn, Jonathan Banks, Bob Odendirk, Dean Norris

Series

Breaking Bad

Release Date(s)

August 26th 2012
Follow Entertainment Fuse