Revolution - Clue Review: Disappointing Lead-Up to the
Final Episodes
By: Yaysa Roque-Rivera | May 21, 2013

Mad Men - The Crash Review: Manic and Surreal
By: Yaysa Roque-Rivera | May 20, 2013

Veep - Andrew Review: More Comedy Than Usual and an
Interesting Twist
By: Tobias Roth | May 20, 2013

Nurse Jackie - Walk of Shame Review: Drama Outweighs
Comedy in a Bit of a Disappointment
By: Tobias Roth | May 20, 2013

Game of Thrones - Second Sons: A More Clearly Focused
Episode
By: Jean Henegan | May 20, 2013

Arrow - Season One Review: Next Best Thing to a Batman
Series
By: Sean Elks | May 19, 2013
Louie - Dad
By:
Ashley Chittock
| Aug 17, 2012
Last week, I said that Louie has matured to the point where longer, more singular story arcs should be attempted more often. No more forward slashes in the middle of episode titles—the show needs to commit to one plotline and see it through to a satisfactory end. Every single time I've criticized this season, the next episode seems to magically address those complaints, and this week is no different. Dad is a great mix of comedy and drama, with plenty of surrealism tacked on to make it feel like one of the most lighthearted and silly episodes of season three, despite the serious matter at hand.
The key to this episode is the stuff it doesn't do. Louie is visited by his uncle, who then urges him to visit his father. Louie and his father haven't spoken in two years, and predictably, Louie isn't particularly enthralled with the concept of reconcilliation. However, the show deliberately leaves many key details vague and unanswered. The reasons for their estrangement aren't discussed, and when Louie's mind and body begin to deteriorate, you begin to question the very reality of the show itself. It sounds deep, but it's executed deftly, with some surreal moments that are designed to lighten the mood.
Louie develops a virus. This virus causes him to embarrass himself in front of his friends by puking up in the middle of a poker game, and although Louie thinks it came from food poisoning, you begin to wonder over the course of the episode whether the primary cause is anxiety-based. This is where the surrealism comes in—Louie having an extended conversation with his satnav amongst other things—and it's an effective device that doesn't feel out of place due to being contextualized within the story. It makes a certain amount of sense for these strange things to be happening to him, unlike certain surreal moments early in the series which were just there for a "record scratch" moment.
That sort of solid writing is what I asked of the show last week—enough flitting about with vignettes and deliver more heavy-hitting stuff that showcases Louie as a character emotionally. It was why I was disappointed that Liz (Parker Posey) hasn't returned after Daddy's Girlfriend, as she challenged Louie in different but comparable ways to his father. To further fit my prediction of where the show is headed stylistically, this is the third episode in a row with no stand-up segments. We're seeing more of Louie the family man, rather than Louie the comedian. Still, that doesn't mean the show has stopped taking the time to poke fun at comic stereotypes. The opening scenes this week makes light of the fact that most comedians, let alone ones as cynical as Louie, notoriously lack a sense of humour outside of working hours.
Yet again, it's a step in the right direction for Louie. This season hasn't quite seen the massive changes C.K. proposed yet, but if the rate of development continues accelerating at the same level until this run is done, Louie will indeed be a different program than the one that started a couple of months ago. One more thing to note about this episode is that Louis C.K. is finally spending some of that million dollars he made with his last stand-up DVD in bringing more glamour to the show. The last four minutes are essentially one big action scene, and filming that couldn't have been cheap. I don't quite think this is going to be a regular thing, though, just a nice temporary change in style for the show, excused by being heavily enveloped in surrealism.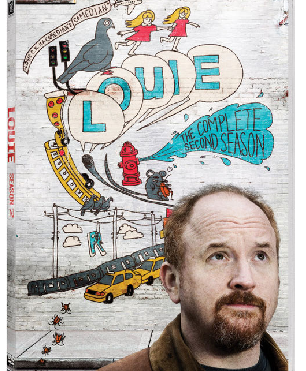 Cover Art
Starring

Louis C.K.

Director(s)

Louis C.K.

Writer(s)

Louis C.K.

Release Date(s)

August 16th 2012

Genre(s)

Black comedy
Follow Entertainment Fuse