Game of Thrones - Second Sons: A More Clearly Focused
Episode
By: Jean Henegan | May 20, 2013

Arrow - Season One Review: Next Best Thing to a Batman
Series
By: Sean Elks | May 19, 2013

The Office - Finale Review: A Fitting End (and a
Wedding on a Beet Farm)
By: Angela Teater | May 17, 2013

Hannibal - Fromage Review: Excellent Work by a Trio of
Guest Stars
By: Jean Henegan | May 17, 2013

Revolution - The Longest Day Review: Compelling
Flashbacks Support the Episode
By: Yaysa Roque-Rivera | May 14, 2013

Mad Men - Man With a Plan Review: Intriguing Look Into
Don Draper
By: Yaysa Roque-Rivera | May 13, 2013
Louie - Daddy's Girlfriend (Part 2)
By:
Ashley Chittock
| Jul 27, 2012
One of my favourite things about the character of Louie is that, despite being cynical and highly observational of the world around him, he still embraces naivete when he wants to. Everybody likes to have a bit of hope now and again, and after "Part 1," Louie was full of hope. The second part of "Daddy's Girlfriend" picked up almost immediately where last week left us—with Louie going to meet his bookstore clerk for their first date. This date takes up the entire episode, and in 20 minutes Louie goes through an incredible range of emotions, from fear to incredulity to joy. And in a brilliant cliffhanger ending, Louie manages to come to the sort of personal revelation you'd see every week on Scrubs, but at the same time be so unsure of its source that he doesn't know whether to be pleased or not.
The worst thing about the end of season two is that Pamela (Pamela Adlon) left the show. As I've said before, she was masterfully written, well-acted and one of the most likeable female characters on television at that time. I said that Louie would miss her massively unless they found a suitable replacement. Well my worries have been eased, because Louie's new girl, Liz (Parker Posey), is everything I loved about Pam and more. In many ways, she's the antithesis of Pamela. Pam was misanthropic, laid back and sarcastic, whereas Liz is highly impulsive, erratic and lives her life on the fine line between intense thrills and insanity. But both are similar in the way they confuse and intrigue Louie. Both women challenge his ideas of what he thinks about life and relationships. The thing with Liz, though, is that at the start of "Part 2," Louie had absolutely no idea that Liz was going to be such a handful this way.
So we followed the pair around New York, and as the episode went on Louie slowly started to realise the woman he scored a date with is incredibly different outside the quiet confines of the bookshop. The hints that things with Liz weren't as they seem were dripped slowly throughout. She doesn't know her colleagues' name, she's implied to be a bit of a wild drinker, she cuckolded Louie into trying on a dress just for kicks. All these things added up to one massive, ringing alarm bell in our heads that read "THIS GIRL IS TROUBLE." Louie, however, continued to ignore it because he wants to succeed with a woman. He was so full of hope that he is willing to be deliberately naive in a way that doesn't befit him.
Parker Posey's performance is top notch, which is a good thing because most of the episode was her talking and Louie being dragged along reluctantly behind her. Right up to the closing seconds, you're never quite sure whether Liz is simply a quirky woman with an unusually high zest for life or genuinely a little bit insane. A very interesting character with some unpredictable mannerisms, I hope she remains a part of the show for a little while yet. With the way the episode ended, leaving the audience uncertain whether Louie actually likes Liz or not, I'm a little surprised this arc isn't a three-parter. But honestly, would it matter? Even though it's part of a multi-episode arc, "Part 2" works just as well as a standalone piece, and it's one of the best episodes C.K. has produced yet.
Louie - Daddy's Girlfriend (Part 2)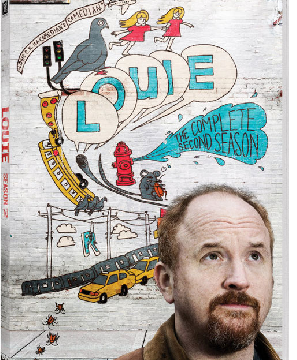 Cover Art
Starring

Louis C.K.

Director(s)

Louis C.K.

Writer(s)

Louis C.K.

Series

Louie

Release Date(s)

July 26th 2012

Genre(s)

Black comedy
Follow Entertainment Fuse