The Office - Finale Review: A Fitting End (and a
Wedding on a Beet Farm)
By: Angela Teater | May 17, 2013

Hannibal - Fromage Review: Excellent Work by a Trio of
Guest Stars
By: Jean Henegan | May 17, 2013

Revolution - The Longest Day Review: Compelling
Flashbacks Support the Episode
By: Yaysa Roque-Rivera | May 14, 2013

Mad Men - Man With a Plan Review: Intriguing Look Into
Don Draper
By: Yaysa Roque-Rivera | May 13, 2013

Veep - Helsinki Review: Awkward Moments and
Uncomfortable Quotes
By: Tobias Roth | May 13, 2013

Game of Thrones - The Bear and the Maiden Fair: A Weak
Effort from George R.R. Martin
By: Jean Henegan | May 13, 2013
Louie - Looking For Liz/Lilly Changes; Late Show (Part 1)
By:
Ashley Chittock
| Sep 02, 2012 From its inception,
Louie
 was never a show afraid to disregard the audience and their expectations. From the fantastic "
God
" in season one to the enigmatic Parker Posey this season, it's a successive series of sharp left turns and record scratch moments that comprise the basis of the show's comedy. I've noticed during season three that more and more C.K. likes to use
Louie
 as a personal vector, a canvas on which to air his worries, fears, and dreams. More than ever, these two episodes illustrate this and pull the curtain back to reveal the real Louis C.K. psyche perhaps a little more than he inteded.
Looking For Liz/Lilly Changes
 was an episode I was looking forward to from the title. I've previously said how much I'd love to see Parker Posey return, but in typical
Louie
 fashion my expectations get subverted by Louie never
actually finding
 Liz. This trick would have been a bit more effective had the show not pulled the exact same stunt the week before with "
Dad
", but extra life is given to the concept by Chloe Sevigny's guest character. Who needs Liz when you have a female supporting character who
literally gets off on other people's romance
? The public orgasm scene comes from so far left field it does its job of shocking the audience, but it derails what was building to be a decent romantic arc for the character. It's this sort of bottling out of potential character moments that has made me down on
Louie
 in the past.
Lilly Changes
 is something of a non-event, and really just serves as an illumination of C.K's worries as a parent. Lilly is growing up, Louie's panicking, he doesn't know what to do. It's all very rudimentary and while seeing Louie run around after his missing daughter to the trademark jazz soundtrack is more fun than it sounds on paper, it never really goes anywhere as a segment.

Late Show (Part 1)
 is a similar episode, but it's the better of the pair due to its greater cohesiveness. Louie is in California, about to go on The Tonight Show. Obviously this big publicity op isn't going to go smoothly for him, and he has to fill in for Tom Cruise at the last second. To his own surprise, he does so well that the head of CBS offers him none other than David Letterman's job. I really like this episode because Louie bears the soul of every working comedian to the world in the last half. Garry Marshall is fantastic as the chairman of CBS, shouting Louie down in a monologue that essentially lists every comic's biggest fear in quick succession - never getting to the top, fading from view, ending up teaching comedy in a community college - and the scene is given some slight comedic grounding by Doug, Louie's hapless manager, who exists only to helplessly gape at Louie's continued reluctance.
The cliffhanger is effective, and unlike the duckling saga from season two it feels like this idea really deserved a two-parter (actually, the Late Show arc is going to last for
three episodes
). It could go into some very interesting directions and potentially kickstart the downward descent into the end of the season. We're bound to be treated to more than a few of C.K's Hollywood pals in the coming weeks, and I wouldn't hold out much hope for Louie actually succeeding, but this slight victory feels refreshing in the same way
Daddy's Girlfriend (Part 1)
 felt like a breath of fresh air. Perhaps the biggest thing holding
Louie
 back is C.K's unflinching inability to write happy endings.
Louie - Looking For Liz/Lilly Changes; Late Show (Part 1)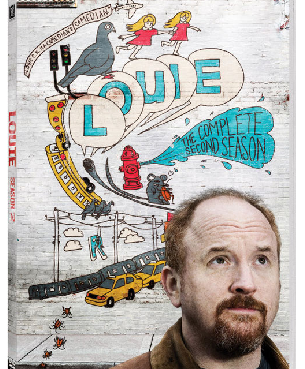 Cover Art
Starring

Louis C.K.

Director(s)

Louis C.K.

Writer(s)

Louis C.K.

Series

Louie

Release Date(s)

23/30 August 2012

Genre(s)

Black comedy
Follow Entertainment Fuse