Hands-On with Metal Gear Rising's Blade Wolf DLC
By: Jeffrey Dy | May 15, 2013

Gran Turismo 6 Official for PS3
By: Kyle Enz | May 15, 2013

Metro: Last Light (PS3) Review - Powerful Resonation
By: Jackson Pounds | May 12, 2013

Dead Island Riptide (PS3) Review - Is More of the Same
a Bad Thing?
By: Matt Rowles | May 07, 2013

Spies vs. Mercs Return in Splinter Cell: Blacklist
By: Emma Quinlan | May 03, 2013

Three New Grand Theft Auto V Trailers Released
By: Matt Rowles | Apr 30, 2013
Uncharted 3 Multiplayer Goes Free to Play
By:
Jackson Pounds
| Feb 26, 2013
Naughty Dog has announced a free to play option for Uncharted 3's multiplayer that is now available on PSN. Naughty Dog states: "To date over 3.5 million people have played in over 37 million matches of UNCHARTED 3: Drake's Deception Multiplayer. All Free-to-Play players will become a part of this same player pool of over a half a million passionate players actively playing our game every month. So if you haven't tried yet, you have no excuse to not be playing one of the most exciting multiplayer experiences on the PS3 - it's free! Join the adventure today!" You can play the game for free until level 15 and unlocking the level cap will allow to purchase "a slew of cool in-game items and "downloadable content" they created for the game.



It is some of the best multiplayer you'll find on the Playstation 3. It is amazing how well the control scheme and mechanics from its single player campaign fits comfortably in multiplayer. The levels themselves occasionally coincide with the campaign's set pieces to mix it up on occasion i.e. The "Airport" level starts on a car chase after a plane and the entire level is in motion. It really fits the Uncharted atmosphere and adds that little bit of nuance that separates itself from other game's multiplayer modes.          

For you PS3 owners, now that the multiplayer is free will you try it out? Let us know in the comments below.
Uncharted 3: Drake's Deception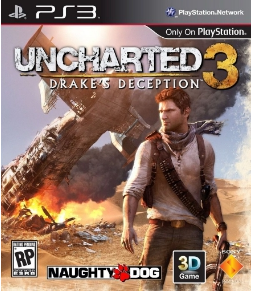 Cover Art
Developer(s)

Naughty Dog

Publisher(s)

Sony Computer Entertainment America

Series

Uncharted

Platform(s)

Playstation 3

Release Date(s)

November 1, 2011

Genre(s)

Action-Adventure, Third Person Shooter

Rating(s)

Mature
Follow Entertainment Fuse